Here is another yummy summer recipe...although not near as healthy as the Green Smoothie! This one I found via pinterest courtesy of BlogChef.net. Here you go!
Ingredients:
4 boneless skinless chicken breasts
1 cup BBQ sauce
8 slices bacon (cooked until crispy)
2 cups shredded Colby-jack cheese
½ cup green onions (sliced)
½ cup tomatoes (chopped)
Cooking Instructions: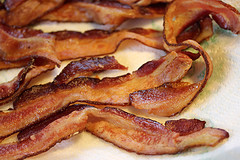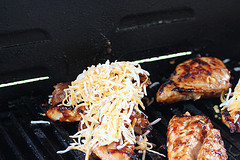 Step 1:
Place bacon slices, 4 at a time into a cold frying pan. Heat to medium-low and cook bacon, turning once until it has reached a deep brown color (about 10-15 minutes), remove from the pan and drain on paper towels.
Step 2:
Lightly grease the grates of an outdoor grill. Heat the grill to medium-high heat. Place chicken breasts onto the grill and cook while turning and brushing with the BBQ sauce frequently on each side for 10-15 minutes per side (depending on the thickness), or until fully cooked (the internal temperature has reached 165 degrees). During the last few minutes of cooking top each chicken breast with 2 slices of bacon and shredded Colby-jack cheese.
Step 3:
Remove from the grill and top with green onions and tomatoes.
(Makes 4 Servings)
Be sure to check his site for TONS of other easy breezy favorites.